Datacenters en Netwerk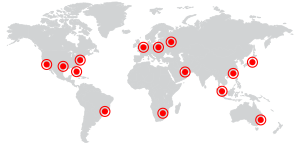 i3D.net beheert meer dan 8,250
servers
op zes continenten ter wereld: Amsterdam, Rotterdam, London, Frankfurt, Warshau, Moskou, Dallas, Los Angeles, New York, Washington DC, Miami, São Paulo, Johannesburg, Dubai, Tokyo, Shanghai, Peking, Hong Kong, Singapore en Sydney. Wij opereren vanuit ons eigen 3.500 m² data center in Nederland. i3D.net beheert een
793 Gigabit
trans-Atlantisch
netwerk
.
Het i3D.net wereldwijde netwerk biedt een schaalbaar platform voor onze colocatie racks, dedicated servers, cloud instances en web hosting diensten. Wij zijn experts in het bijschalen van grote capaciteit.
Onze dienstverlening wordt ondersteund door een 24x7 helpdesk en in-house geschreven software om de infrastructuur te beheren en monitoren. i3D.net biedt een SLA op schaalbaarheid, beschikbaarheid en performance. De datacenters zijn ISO/IEC 27001 en CDSA (Content Protection & Security) gecertificeerd.
Meer informatie
Laatste Nieuws
i3D.net acquires U.S. hosting company to support future growth
i3D.net, the Performance Hosting provider, announces that its U.S. subsidiary recently acquired all activities, assets and team members of MyInternetServices.com LLC, a U.S. managed hosting provider founded in 2004 and host to game publishers and game developers.i3D.net operates the One Platform, a hosting platform with 25 global locations and our inhouse developed software specially designed for performance critical workloads. i3D.net is proud to serve many of the largest game developers and publishers worldwide, and the targeted acquisition greatly complements our role in the fast-growing game market and strengthens our sustainable competitive market position.Integration of U.S. operationsIn the past weeks, our teams integrated all network...
Nieuwsarchief
14 Aug 2018

-
Meet the i3D.net team at Gamescom!
14 Aug 2018

-
i3D.net is live in Moscow, Russia, connects...
29 Jun 2018

-
Pure Storage helps i3D.net exceed service...
28 Jun 2018

-
New PoP: Chicago
23 May 2018

-
Data Protection & Security
01 Feb 2018

-
i3D.net multi-cloud game hosting demo
08 Jan 2018

-
Meltdown & Spectre
17 Nov 2017

-
i3D.net connects Africa to online gaming,...